Rose Marie Suite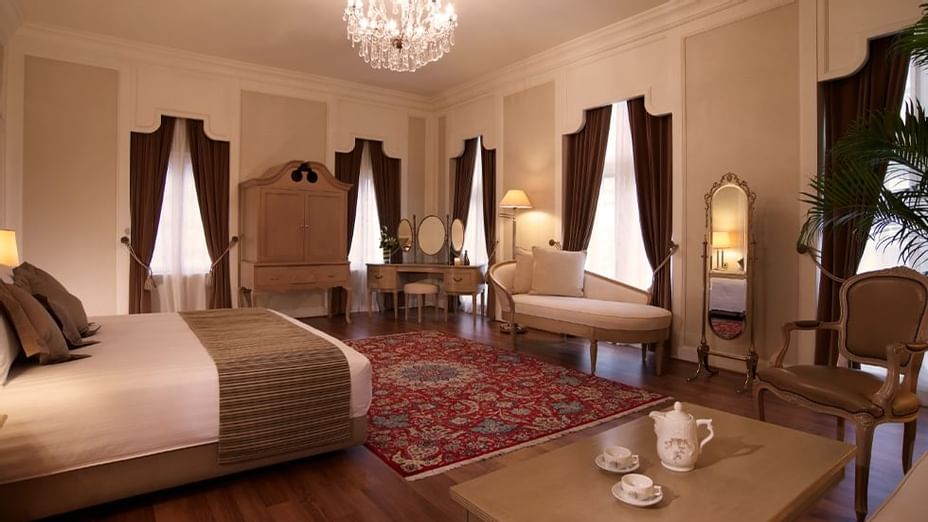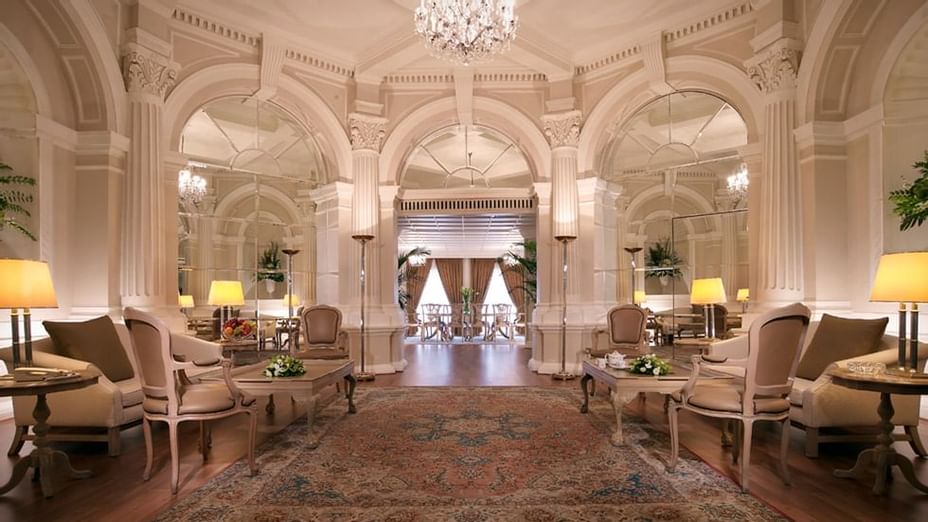 Exuding the grandeur and charm of an aristocratic mansion, the Rose Marie Suite delivers the ultimate grand luxury in Singapore hotel accommodation.
Housed in the historic Grand Tower of the Goodwood Park Hotel, the Rose Marie Suite's spacious lounge, fluted columns and wall etchings are beautifully decorated in perfect blends of earthy colours. The off-white textured fabric upholstery exudes a feeling of warmth and cosiness that one would expect of a grand European home. Classically designed furniture, rich fabrics and linens further accentuate the European character. The beige and camel interior also underlined the breathtaking, understated elegance and sophistication.
As you step into the lounge, luxurious camel-toned drapes hanging from Louis XVI ornamental rods provide a grand backdrop to the vast dining room. A Georgian-style bleached wood dining table and chairs is the focal point, dominating the room. A Chippendale-style sideboard reproduced from the Claridge Collection and Monet print adorn the walls; the awesome chandelier and long mirrors add to an indelible impression of beauty.
The balcony, which is the nearest one can get to the historic tower, overlooks the busy Orchard and Scotts Road. This garden terrace is the best place to enjoy a drink in absolute serenity, all in the midst of the bustling street.
Stepping into the bleached wood panelled study, one is immediately struck by its intimate ambience. The elegant interior, crafted in rich leather and wood panelling, the inclusion of the modern facilities and a glass cupboard of crystal ware exude sophistication and comfort.
A tranquil haven, the master bedroom is in muted shades of beige and ivory with brass touches. There is also a huge walk-in closet to fit a large wardrobe. In addition, guests may enjoy a warm bath at the beautiful marbled bathroom with an attached sauna.
The special charm of the Rose Marie Suite in Singapore has captured the hearts of many from all over the world; among them are royalty, international celebrities and heads of state.
SIZE: 260 sqm | NO. OF SUITES: 1
Features and amenities in Rose Marie Suite include:
In-room internet access (wired/wireless)
Breakfast for 2 persons
Flat-screen TV with cable channel
Private balcony
Separate living room & dining room
Piano
Study room with entertainment system
Iron with ironing board
Bathrobe and bedroom slippers
Hairdryer
Deluxe bathroom toiletries
Walk-in closet
Marbled bathroom with attached sauna
In-room safe
Nespresso coffee machine & tea making facilities
Fully-equipped kitchenette with refrigerator