Heritage Room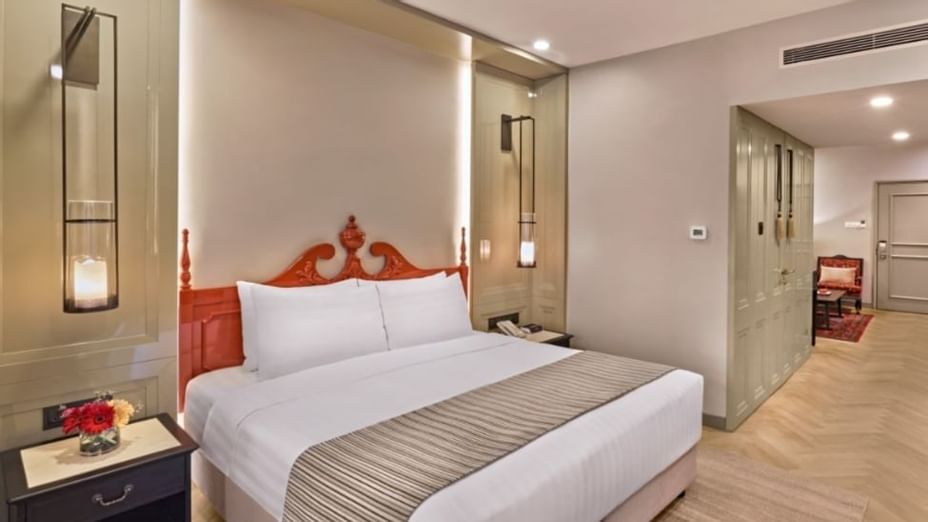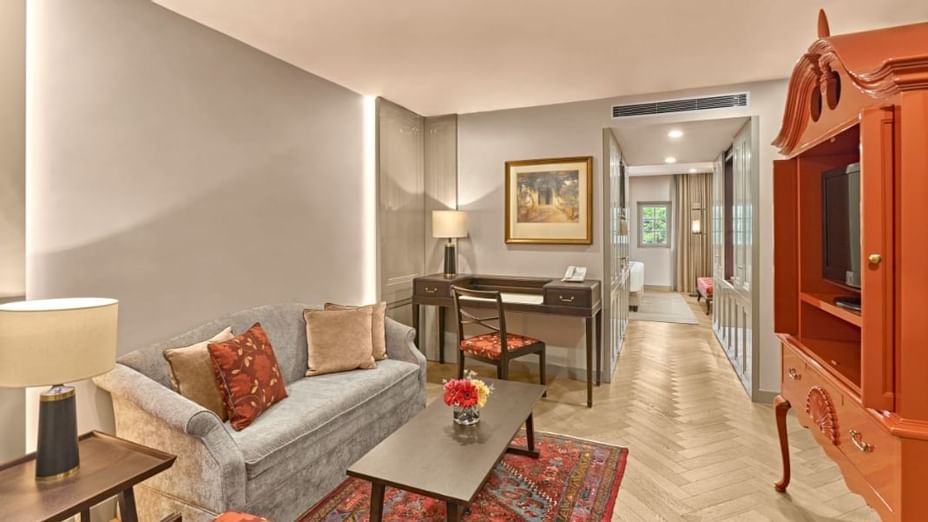 Infusing modernity with neo-classical charm are our Heritage Rooms, located in the hotel's heritage wing. The rooms flank both sides of the historic Grand Tower which is gazetted a national monument of Singapore.
Well-appointed with classic furnishings that exude a touch of contemporary flair, the rooms feature a colour palette of comfortable muted tones like olive green and grey, juxtaposed with stately brown and cheerful brick or royal yellow accents.
The traditional herringbone pattern of the light-coloured parquet flooring as well as the beautiful neo-classical style of the striking TV armoire and bed headboard are reminiscent of a bygone era. Elegant English detailing of the upholstery for the armchair and bedroom bench, softly complemented by the different fabrics used in the room, enhances its allure. Adding bold splashes of vibrancy and depth to the space is the gloss lacquer finishing for the timber wall panelling, TV armoire and bed headboard.
SIZE: 36 – 48 sqm | NO. OF ROOMS: 15
Features and amenities in Heritage Room include:
In-room internet access (wired/wireless)
Separate living area
Air-conditioning
Nespresso machine and tea making facilities
Flat-screen TV with cable channels
International socket
Iron with ironing board
Minibar
In-room safe
Alarm clock / Radio
Bathrobe and bedroom slippers
Hairdryer
Deluxe Bathroom toiletries
Bathtub with shower head
Note: Hosting of party and gathering are not recommended in these rooms as we uphold a strict zero tolerance to parties and excessive noise. It is to ensure all guests enjoy the comfort and safety of the facilities and any person found to be on the premises creating excessive noise, having a party or exceeding the numbers of permitted guests will be requested to leave the hotel without refund. Room configuration and views from the room may differ from the image shown.